It all comes down to the debate over whether or not it's a good idea to wash eggs before putting them on the shelves. In the United States, USDA standards require that all eggs must be washed before being sold to consumers.
The standards specify that American eggs must be washed with an odorless detergent and water that is at least 90°F and a minimum of 20°F warmer than the internal temperature of the egg. The eggs must then be thoroughly dried.
This last step is where a lot of the controversy arises. A completely dry egg is almost completely impervious to bacteria, but even a thin layer of moisture facilitates the flow of bacteria into the egg.
Health officials in Europe are worried that washing eggs may do more harm than good, fearing that the drying process won't be meticulously carried out every single time.
They also fear the possibility that some eggs could end up soaking in cold sanitizing water that hasn't been changed out in a while. Cold water causes eggs to contract inwards- this contraction pulls liquid from the shell's surroundings into its interior. If this liquid happens to be old, cold water, there is a high chance it contains bacteria.
Then there's a little something known as the cuticle. As a hen is laying an egg, she applies a thin, mucous-like coating to the outside of the shell. It is wet for the first few minutes, but it quickly dries and creates a protective layer that keeps out carbon dioxide and moisture which can spoil and contaminate the egg.
The EU's egg regulators say that the egg's natural cuticle provides,
"an effective barrier to bacterial ingress with an array of antimicrobial properties."
This is one of the main reasons why they oppose the washing of eggs, which often removes part or all of the cuticle layer.
Finally, there's the issue of refrigeration. In Europe eggs are on non-refrigerated shelves and stay close to room temperature from the time they are collected to the time they are bought and consumed.
This is because when you take a cold, refrigerated egg out into warmer air, moisture in the air condenses on it. According to the EU regulations, this facilitates the growth bacteria both outside and inside the shell.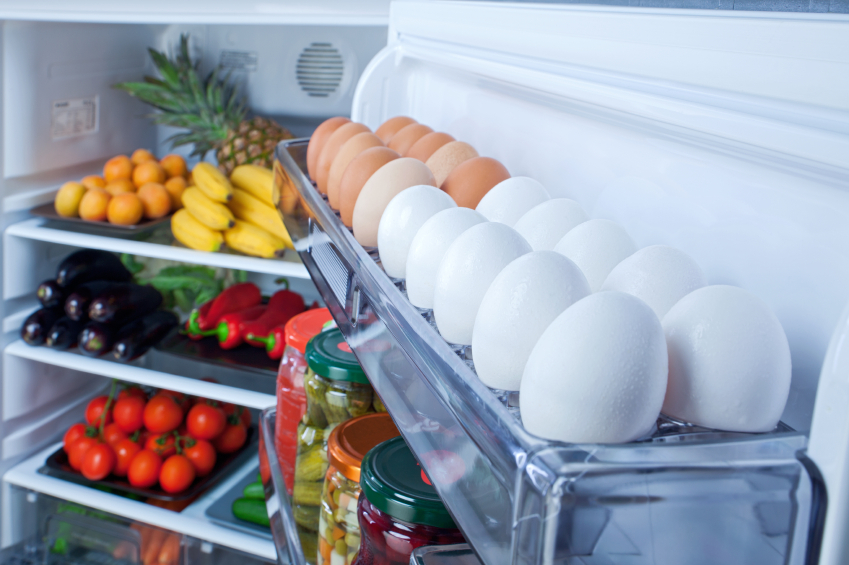 So why would we refrigerate eggs in the United States? The answer in related to another major difference between American and British eggs: salmonella vaccination.
Salmonella is the main bacterial culprit of contaminated eggs. It can come from feces getting on the egg,  but it can also come from feces getting into the hen's reproductive tract before the shell even forms. When this happens, the salmonella is inside the egg from jump- no amount of washing can de-contaminate it.
During an outbreak in the late 90s, thousands of people in the UK got salmonella poisoning in a very short period time. Ever since then, British farmers have been vaccinating their hens against salmonella to avoid the costs of being the source of a health crisis. While hen vaccination is not required by law, farmers must do it if they want their eggs certified by Britain's official Lion Quality Mark.
Today, 90% of all eggs in the UK are from vaccinated hens, and most of the remaining 10% come from small farmers who don't sell their eggs to retail chains. Reported cases of salmonella poisoning in the UK dropped from 14,771 in 1997 to just 581 in 2009.
Here in the United States, there's no vaccination requirements. Consequently, we have about 142,000 cases of illness from consuming salmonella-contaminated eggs every year.
So back to refrigeration. A study in the early 90s showed that non-refrigerated eggs didn't experience any significant salmonella growth in the first 21 days. After that, however, the eggs quickly became contaminated. More research has shown that storing eggs in colder temperatures inhibits the growth of bacteria over a much longer period of time.
So, to keep eggs from our unvaccinated American hens on the shelves longer, we refrigerate them. What do you think?
Read more from Forbes here.