I'm really sorry to disappoint you but there's no real study. I made it up because I thought the headline would make you more likely to read this. It's a trick being used more and more often lately, but most websites won't admit the lie straight off the bat like I just did.
If you use Facebook fairly regularly, chances are you've been conned at least once by a "satirical" website. I put satirical in quotes because what these sites do is a dagger in the side of all the real satirists out there.
The Onion, founded in 1988 in Chicago, was the first major satirical news outlet. Their stories were clearly fake, but they gained readers because the writing was clever and genuinely funny.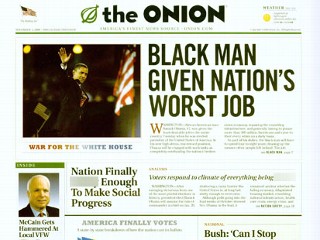 This shit is not the Onion. Excuse my French but it's my job as a journalist to tell the truth as I see it, and the truth is, what these sites are doing is shit. They are exploiting ill-informed, gullible yet passionate people by intentionally generating "news" designed to take advantage of our most powerful emotions.
One of the largest of these new websites is The Daily Currant, a site that refers to itself as "The Global Satirical Newspaper of Record".
This completely joke-free "satire" website got famous after a fake article they wrote about a New York pizzeria owner refusing Mayor Michael Bloomberg a second slice of pizza (because of his proposed ban on large sodas) made it onto the front page of the Drudge Report.
Another great example of this sleazy fake journalism is this recent story published by the website National Report. The headline: Texas to Pass "Name Your Fetus" Bill.
The article talks about a new law passed by the Texas legislature that forces women getting abortions to,
"…not only hear their fetus' heartbeat, but must also come up with male and female baby names, speak with at least one faculty member from the local school district, and examine no fewer than 30 baby photos."
The article also claims that any woman who gets an abortion will have to write a letter to a judge explaining her reasons for getting it, and that the judge could recommend her name and photo be published in an online abortion registry.
To a well-educated person who keeps up with government and politics, this article throws up a number of red flags pretty quickly, but to someone who is passionate about this issue and simultaneously ill-informed on it, these red flags are almost a welcome sight: they are confirmation of the belief that the Texas legislature (and conservatives in general) are waging a draconian war on women's rights.
These political devils and male chauvinists must be exposed! This information must be shared with the world! And just like that, the lie spreads. That article is only two weeks old and already has over 3,000 shares and over 14,000 comments on Facebook.
The worst part is the 112 responses on the actual article. The moderators made sure to censor any comments revealing that the story is fake, and passionate people from both sides clash in an insane series of conversations which includes tidbits like this one:
These conversations may sound ridiculous to you, but go read the rest of the comments for yourself. Real people are having real conversations, feeling very real feelings of anger and hate towards one another, all based off of a fake piece of news.
There are other examples, like Empire Sports recent trolling of UFC fans, when they claimed longtime announcer and former Fear Factor host Joe Rogan would be stepping into the ring.
Just last Thursday, Empire News (Empire Sports' parent site) posted a story with the headline: Obama Signs Bill Forgiving All Student Loan Debt.
Despite the fact that this headline may seem pretty fake to most, Empire News (like most of these sites) combines good, journalistic-sounding writing with a total lack of humor to make gullible readers mistake these supposed "satire" sites for reliable news sources. The student debt article is at 24,678 shares and 44,177 likes on Facebook already.
I know a lot of you are probably thinking, 'Hey, if people are dumb enough to believe those fake stories, that's their problem.' Well, the fake sources are getting more sophisticated, and even intelligent people are falling for the trap.
Recently an article entitled "Big Hospital Finally Telling the Truth About Cancer" claimed to have obatined a "Cancer Update" e-mail from world-famous Johns Hopkins Hospital. The supposed update made a number of false claims about cancer (like "everyone has cancer cells"), but cleverly mixed in some legitimate elements of holistic treatment, like carefully monitoring your diet.
The result? 634,366 likes, 474,147 shares and 335,023 comments on Facebook, as well as 6,012 shares on Twitter and 6,416 on Pinterest (the website has since removed the article).
And this doesn't account for the hundreds of sites that re-posted the fake information on their own pages. I even considered posting about it on here until I read all of the overly bold claims it made.
It took a snopes.com debunking and an open letter on Johns Hopkins official website to stop the infection, though a lot of damage has already been done.
With more and more people gaining access to modern technology, we get an increasingly large amount of our information from social media, relying on others to share good, reliable stories so we don't have to find them ourselves.
Worsening the problem, a Washington Post survey from March found that,
"roughly six in 10 people acknowledge that they have done nothing more than read news headlines in the past week."
Tony Haile, CEO of Chartbeat (which measures realtime traffic for sites like Upworthy), recently added,
"We've found effectively no correlation between social shares and people actually reading [the content]."
These websites know that most people never even put in the time to read an article, let alone investigate its accuracy, so they design their articles specifically to push our most sensitive buttons.
The admins of some of these sites are making $100,000+ a year selling ad space on their sites, and the minimal amount of writing they do is all, quite literally, a bunch of made up shit.
Social media has been great in terms of increasing the voice of the individual and helping to break some of the media monopoly that was built during the rise of television, but it has also had the unintended consequence of increasing the amount of false info out there.
So how do we fight this growing monster of lies and targeted misinformation? Well, there's a few things we have to stop doing on Facebook.
First off, if a headline catches your eye because it seems unbelievable, chances are it probably is. Don't let your desire for the story to be true override your logic and skepticism.
If you are skeptical about a claim, try searching key phrases from the article on Google, adding the word "fake" or "satire". People call out these stories for being false pretty early on, but you usually won't find the debunkings on social media.
But by far the single most important thing you can do is to STOP sharing, commenting on or even liking links unless you are willing to vouch for what is in them. Don't let others judge credibility for you.
With major media outlets become increasingly more like the tabloids in their sensationalist journalism, it's going to be up to us, the individuals, to demand credibility and accountability from our news sources.
Otherwise, we may soon live in a world so saturated with falsehoods that the truth will become virtually impossible to extract.
NOTE: All of the specific stats on social media shares came from sharedcount.com. You can use this site to check the total number of social shares for any public web address.