With more than 87% of its population subscribing to Islam, Indonesia is predominantly a Muslim country. In fact, with just under 210 million Muslim citizens, it is home to the largest Muslim population in the world.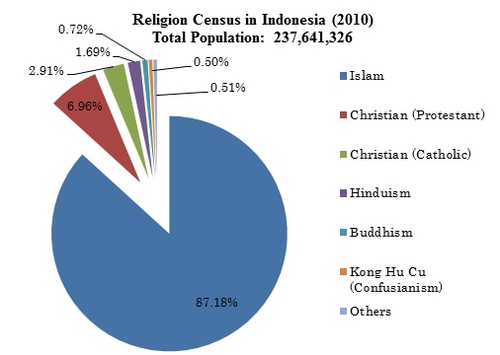 However, this didn't stop the Indonesian government from passing a new law on Monday that banned all public support for the terrorist group ISIS (sometimes known as ISIL), which recently emerged in the Middle East.
Djoko Suyanto, Coordinating Minister for Political, Legal and Security Affairs in Indonesia, said that ISIS's rising profile in the country seriously threatens the country's cultural and religious diversity:
"The government rejects and bans the teachings of ISIS […] from growing in Indonesia. It [ISIL] is not in line with state ideology, Pancasila, or the philosophy of kebhinekaan [diversity] under the unitary state of the Republic of Indonesia,"
he told reporters at a press conference following a private meeting with the Indonesian cabinet on Monday.
The meeting was attended by Indonesia's top military commander, its National Police chief and its National Intelligence Agency (BIN) chief, as well as the Religious Affairs minister.
The meeting produced three major strategies for combating the influence of ISIS in Indonesia:
The Ministry of Religious Affairs will launch a campaign in coordination with major religious figures in the country to educate the public on the dangers of ISIS.
The Foreign Ministry, the Law and Human Rights Ministry, the National Intelligence Agency (BIN) and the National Counterterrorism Agency (BNPT) will all coordinate to detect and prevent Indonesians trying to join up with the terrorist group (56 Indonesians have already left the country to join ISIS since the group was formed).
A government-ordered ban on all YouTube videos promoting or endorsing ISIS.
Sidney Jones, director of the Institute for Policy Analysis of Conflict (IPAC), praised the government's move, but added that Indonesians were already rejecting ISIS, adding that more concrete steps need to be taken to actually curb their operations within the country:
"In terms of deterring support for ISIL, many Indonesians are already playing a role, rejecting ISIL on Facebook and Twitter, pointing to ISIL brutality against other Muslims and questioning [ISIS leader] al-Baghdadi's claim to the caliphate,"
she said in an e-mail interview on Monday.
Following the announcement of the new ban on Monday, Indonesia's president Susilo Bambang Yudhoyono urged Indonesians to carefully examine the current situation in the Middle East, including ISIS. He also added that, "not all problems in the Middle East concern religion".
Read the original story from The Jakarta Post here.