Over the span of two months, Swiss pilots André Borschberg and Bertrand Piccard will attempt to travel around the world using only solar energy. The record-setting flight would be the first time a solar-powered plane traveled around the entire world. According to the BBC…
"The plans have been set for the solar-powered plane, Solar Impulse 2, to take off from Abu Dhabi and then fly around the globe using only the sun's energy."
Scientific American provides a bit more background on the pilots and their history with solar-powered flight:
"In the summer of 2013, the pilots made a record-setting, coast-to-coast journey across the United States, from California to New York, using their first ultralight aircraft, Solar Impulse. The plane, which had a cruising speed of about 53 mph (85 km/h), also completed a 26-hour overnight flight in 2010, and flew from Switzerland to Morocco in 2012."
Borschberg and Piccard's will make the record-setting attempt in their latest creation: the "Solar Impulse 2". This extremely lightweight carbon-fiber plane is covered in over 17,000 solar panels, and is able to store enough energy during the day to fly through night without using a single drop of fuel.
The Solar Impulse 2 has a wingspan larger than a Boeing 747-8I, but only weighs around 5,000 pounds – about as much as a car.
The around-the-world journey is planned to begin and end in Abu Dhabi, the capitol city of the United Arab Emirates. The two pilots are scheduled to lift off in late February or early March and are expected to return in late July or early August.
The journey will not be one continuous flight – instead, Solar Impulse 2 will make a number of stops along the way to handle routine maintenance and to promote their solar aircraft.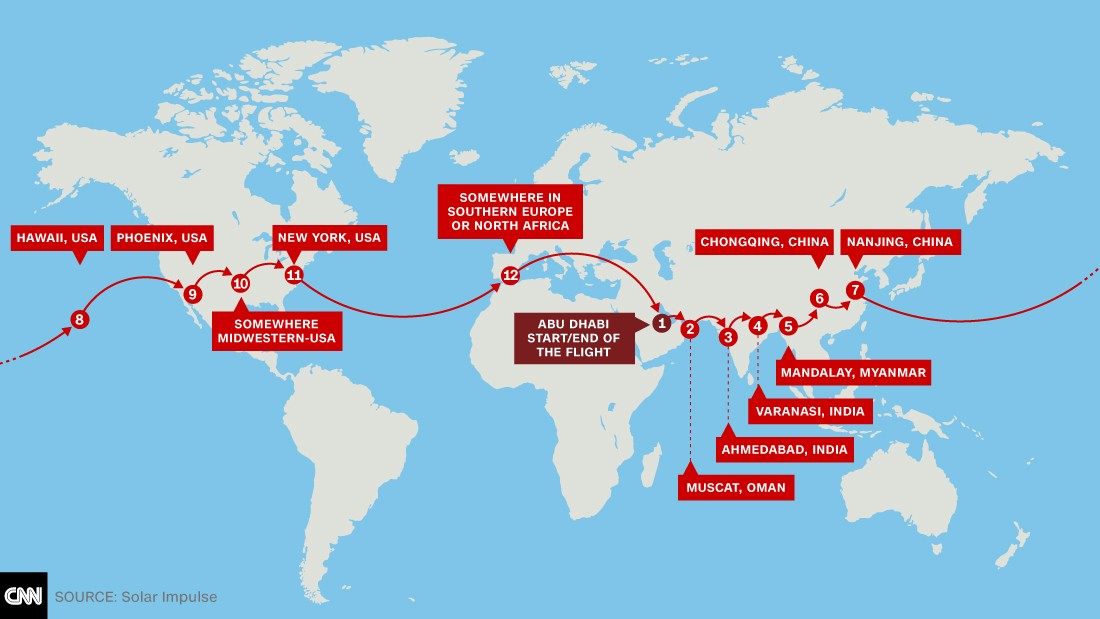 The Solar Impulse 2 made it's debut flight in June of last year, flying for over two hours and reaching altitudes of over 5,000 feet. Check out the video below to see the bird in action…