Ever wondered what it looks like at the bottom of a rocket during an engine malfunction? Well, thanks to GoPro, now you know: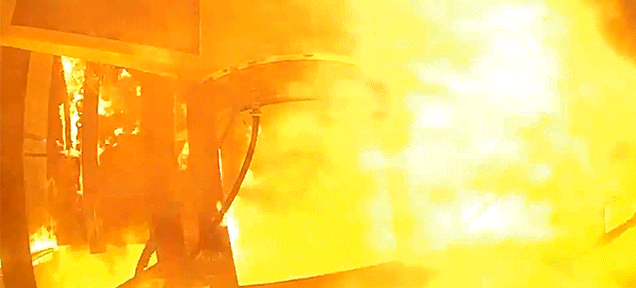 Copenhagen Suborbitals (who owns the rocket in the gif above) is a Danish, ameteur based non-profit aerospace organization. Their main goal (right now at least) is to launch a human into space and return them home safely.
Recently, the company was carrying out a test of its HEAT-2X rocket, and decided to use a GoPro HERO3 camera to capture the action at the business end of the rocket.
Unfortunately for Copenhagen, one of the rocket's engines malfunctioned, making the test a failure.
Amazingly however, the GoPro camera survived, despite spending an extended period of time right in the heart of the raging inferno.
At around the 2:10 mark, the camera's mounting equipment succumbs to the extreme heat, leading to an awesome sequence in which the camera spends about a minute falling through what looks like the depths of Hell at 240 frames per second. Enjoy!
(h/t Gizmodo)